Veronyka, Tristan, and Sev must stop the advancing empire from destroying the Phoenix Riders in this fiery sequel to Crown of Feathers, which #1 New York Times bestselling author Kendare Blake calls "absolutely unforgettable!"
You are a daughter of queens.
The world is balanced on the edge of a knife, and war is almost certain between the empire and the Phoenix Riders.
Like Nefyra before you, your life will be a trial by fire.
Veronyka finally got her wish to join the Riders, but while she's supposed to be in training, all she really wants to do is fly out to defend the villages of Pyra from the advancing empire. Tristan has been promoted to Master Rider, but he has very different ideas about the best way to protect their people than his father, the commander. Sev has been sent to spy on the empire, but maintaining his cover may force him to fight on the wrong side of the war. And Veronyka's sister, Val, is determined to regain the empire she lost—even if it means inciting the war herself.
Such is your inheritance. A name. A legacy. An empire in ruin.
As tensions reach a boiling point, the characters all find themselves drawn together into a fight that will shape the course of the empire—and determine the future of the Phoenix Riders. Each must decide how far they're willing to go—and what they're willing to lose in the process.
I pray you are able to pass through the flames.
If you haven't read book One. Check out Crown of Feathers below.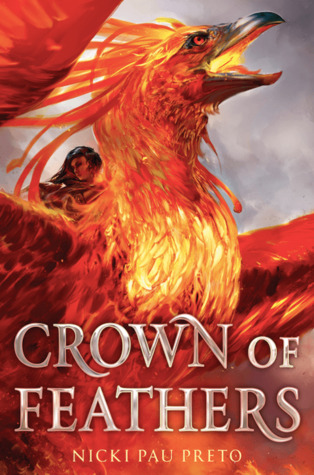 I had a sister, once…
In a world ruled by fierce warrior queens, a grand empire was built upon the backs of Phoenix Riders—legendary heroes who soared through the sky on wings of fire—until a war between two sisters ripped it all apart.
I promised her the throne would not come between us.
Sixteen years later, Veronyka is a war orphan who dreams of becoming a Phoenix Rider from the stories of old.
After a shocking betrayal from her controlling sister, Veronyka strikes out alone to find the Riders—even if that means disguising herself as a boy to join their ranks.
But it is a fact of life that one must kill or be killed. Rule or be ruled.
Just as Veronyka finally feels like she belongs, her sister turns up and reveals a tangled web of lies between them that will change everything. And meanwhile, the new empire has learned of the Riders' return and intends to destroy them once and for all.
Sometimes the title of queen is given. Sometimes it must be taken.

About the Author:
Nicki Pau Preto is YA fantasy author living just outside of Toronto, Canada––though her hatred of hockey, snow, and geese makes her the worst Canadian in the country. She studied art and art history in school, mostly because she thought it would be hard to get a job with an English degree…but it turns out it's hard to get a job with an art degree, too (surprise, surprise) so she went back to school again for graphic design.
The common thread in all her studies was creativity (art and graphic design) and a love of stories (art history is, after all, the stories behind famous works of art). This may be why the fantasy genre, where the writer can create brand new worlds with histories and cultures of their own, always appealed most strongly to her.
When Nicki's not reading or writing, she can be found watching basketball (go Raptors), playing soccer (forward or midfield), and online bargain shopping with competitive zeal (she's a starving artist, after all). Oh, and sometimes she manages to go outside and see friends and stuff.
Her YA fantasy debut CROWN OF FEATHERS is available now from Simon Pulse/Simon & Schuster.
Name Pronunciation:
Pau Preto is my full surname, and is pronounced like so: Pow-Prett-Oh